INFORMATION
---
TRAVEL RUSSIA
Tickets

Domestic
International
TRAVEL CHINA
---
TRAVEL MONGOLIA
---
RUSSIA EXPERIENCE AND VOLUNTEERING
Picture Galleries:
---
PEN-PAL CLUB
---
LINKS
---
ABOUT US
---
---
SVEZHY VETER Travel Agency
426008 Izhevsk Karla Marxa 288a
mail: 426033 Izhevsk
p.o.box 2040 Russia
tel: +7 (3412) 450037, 613080
+7 909 064 69 95

Contact us
---
Regular Flights
The Best Fares Available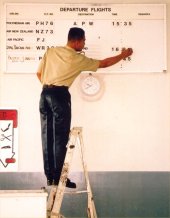 Below are SOME of our quotations for SOME of the destinations we can assist you with, to give you a rough idea of the prices' range and destinations' availability.
There is definitely MUCH more to quote, some prices lower or go up so quickly that we are not quite always able to update them. We do try to do this, though.
Important! There is virtually no such a thing as train or plane booking in Russia. One either pays for it and has it or the reservation is almost instantly cancelled. The longest WE may be able to hold a reservation is a few hours or a day. Sorry.
If you would like to order a particular ticket or have queries concerning payment or delivery, please use the CONTACT US form, we will get back to you as soon as we can.
Destination
Fare (USD)
Excluding Airport Taxes
From
To
Round Trip
One Way
Moscow
Athens
190
155
Moscow
Amsterdam
253
242
Moscow
Ankara
247
241
Moscow
Antalia
264
-
Moscow - Tashkent
Bangkok
517
471
Moscow
Barcelona
253
264
Moscow
Beijing
505
471
Moscow
Berlin
290
242
Moscow
Budapest
199
225
Moscow
Calcutta
750
488
Moscow
Cape Town
599
650
Moscow
Chicago
419
406
Moscow
Copenhagen
308
242
Moscow
Delhi
535
455
Moscow
Dubai
374
330
Moscow
Dublin
330
266
Moscow
Frankfurt-Am-Maine
250
225
Moscow
Geneva
333
388
Moscow
Havana
824
650
Moscow
Helsinki
178
242
Moscow
Hurghada
200
-
Kazan
Istanbul
258
155
Moscow
Istanbul
167
226
Moscow
Katmandu
636
645
Moscow
Kuala Lumpur
824
528
Moscow
Lagos
850
553
Moscow
Lima
999
650
Moscow
Lisbon
399
455
Moscow
London
253
225
Moscow
Los Angeles
605
525
Moscow
Madrid
281
264
Moscow
Malta
270
529
Moscow
Manila
850
528
Moscow
Mexico
750
525
Moscow
Montego Bay
824
885
Moscow
Montevideo
1031
878
Moscow
Montreal
560
448
Moscow
New York
419
331
Moscow
Oslo
253
242
Moscow
Ottawa
640
448
Moscow
Paphos
200
175
Moscow
Paris
253
264
Moscow
Prague
308
242
Moscow
Rabat
573
-
Moscow
Reykjavik
799
603
Moscow
Rio de Janeiro
888
585
Moscow
Rome
253
264
Moscow
San Francisco
605
525
Moscow
Santiago
1049
683
Moscow
Seattle
582
471
Moscow
Seoul
560
553
Moscow
Singapore
820
528
Moscow
Sofia
210
200
Moscow
Stockholm
295
241
Moscow
Sydney
1000
792
Moscow
Tel Aviv
281
230
Moscow
Tokyo
715
521
Moscow
Toronto
560
448
Moscow
Tunis
335
388
Moscow
Ulan Bator
566
643
Moscow
Vienna
253
242
Moscow
Warsaw
198
198
Moscow
Washington
415
426
Moscow
Zurich
253
260